Muslim Day at the Statehouse 2015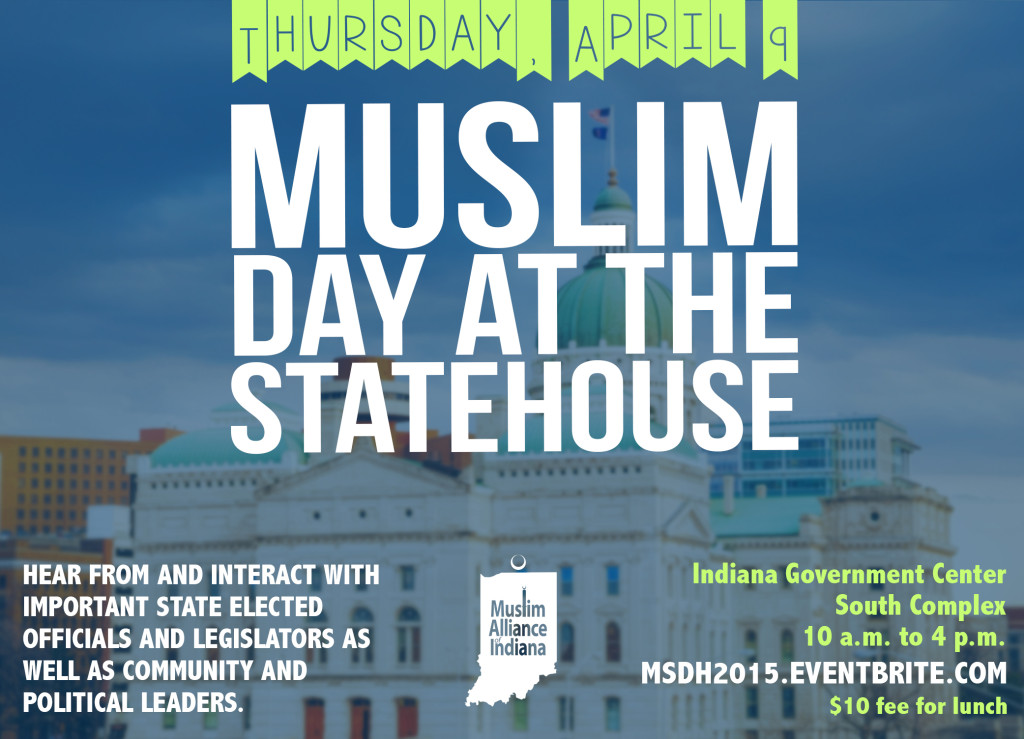 MUSLIM DAY @the STATE HOUSE 2015
Thursday, April 9, 2015
from 10:00 AM to 4:00 PM (EDT)
As-salamu alaykum.
The Indiana House is expected to vote soon on Senate Bill 101, Indiana's proposed 'Religious Freedom Restoration Act', which the Indiana Senate has already passed 40-10. By a similar margin, the Senate also passed SB 127, which will allow any group receiving state or local contracts to discriminate against individuals who do not espouse its religious tenets. Momentum continues in this session of the Indiana General Assembly to pass "religious freedom" legislation.
·      Will these bills lead to the firing or non-hiring of Muslims and other minorities by private hospitals, colleges and universities, schools, and other religiously-affiliated groups?
·      Will they limit the religious freedom of the employees or enhance the religious freedom of employers? Could they pose any threat to thousands of Muslim Hoosiers?
On the other hand, there is much less attention to the need for Indiana to enact a hate crimes statute, which has also been proposed again in this session as House Bill 1330.
·      What is the likelihood that HB 1330 will be enacted? How will it help reduce the climate of bias against minorities and make hateful criminals think twice?
·      Will it protect Muslim Hoosiers against hate crimes based on Islamophobia by ensuring they are swiftly prosecuted?
On behalf of the Muslim Alliance of Indiana (MAI) and the Council of Indiana Muslim Organizations (CIMO), we are pleased to invite you and leaders in your local community to the second annual Muslim Day @the Indiana State House (MDSH) on Thursday, 9th April  2015 from 10.00 AM to 4:00 PM.
The event will take place at the Indiana Government Center – South Complex in Indianapolis.  Lunch will be included in the registration charge of $10.
Come to the Muslim Day @the Indiana State House to learn about the possible consequences of these pieces of legislation.
MDSH 2015 also provides an opportunity to:
•       COMMUNICATE the important contributions Muslim Hoosiers make to Indiana's civic, economic and social fabric
•       ENGAGE with elected officials, key political leaders, and other important civic figures
•       LEARN about the legislative and administrative government processes, including current legislation and policies
•       EMPOWER Muslims to help improve the communities in which we live, work, study, and play, by participating in a myriad of activities
•       ENHANCE the Muslim community's political engagement, community service, philanthropic endeavors, and social justice
•       ADVOCATE on behalf of Muslim Hoosiers and their interests
•       AMPLIFY Muslim efforts in political engagement, community service, and social justice.
•       SHARE knowledge and information with policymakers
Several Indiana elected officials and legislators, as well as some well-established political leaders, will be meeting with us.
Your participation in MDSH 2015 is important. We pray that your community will be fully represented at this important event. Please register TODAY at mdsh2015.eventbrite.com.